Caishen.Co Data Alerts push you the latest data for your needs. Do you want to know the moment a certain company's news is posted to our site? Are you interested in any news containing keywords such as ""manufacturing Tianjin""? What about receiving only news if a deal reaches a certain taxonomy?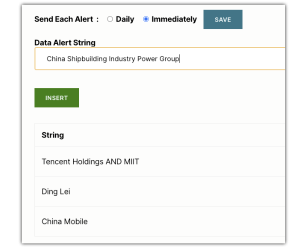 Create Your Data Alerts
To create your Data Alerts, first visit your Dashboard > Data Alerts. You can then enter keywords using the Boolean operator "AND" to connect multiple keywords. Your Data Alerts are all either sent immediately via email when the data is available, or once a day inside one email — so select either "Daily" or "Immediately".
Subscribers can add up to 100 keyword phrases, while Free Accounts are limited to only 2 keyword phrases. If you downgrade from a Digital Subscription to a Free Account, your alerts will also be deleted.
Delete or Stop Data Alert Emails
When you wish to amend a Data Alert, it's best to delete it and create a new one. If you wish to stop receiving the immediate or daily emails, you should click the ""Delete"" button next to the particular Data Alert to remove that from your account.