At Caishen.Co, Corporate Subscriptions are an excellent way to provide your colleagues a wider access to Caishen.Co's platform and data. With a Corporate Subscription, each of your colleagues gains their own access. Contact us for more info.
Companies can pay for Corporate Subscriptions in two main ways: online with credit card or manually via a bank transfer.
Concurrent logins and simultaneous user sessions are not permitted in our system. However, we do offer special unlimited concurrent session accounts on some Corporate Subscriptions. Please contact us for more details."
For your safety and security, your account can only be logged in on one device or browser at a time when you use Caishen.Co. If you do wish to have multiple subscriptions to share with colleagues and friends, please contact us for a Corporate Subscription. And for special licensing deals, we can provide you unlimited concurrent login sessions, so please contact us for our flexible options!
Please also check our Terms & Conditions for more information about concurrent sessions.
Caishen.Co Data Alerts push you the latest data for your needs. Do you want to know the moment a certain company's news is posted to our site? Are you interested in any news containing keywords such as ""manufacturing Tianjin""? What about receiving only news if a deal reaches a certain taxonomy?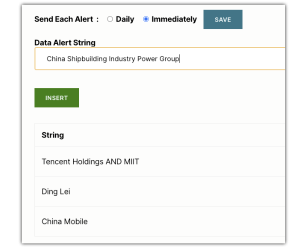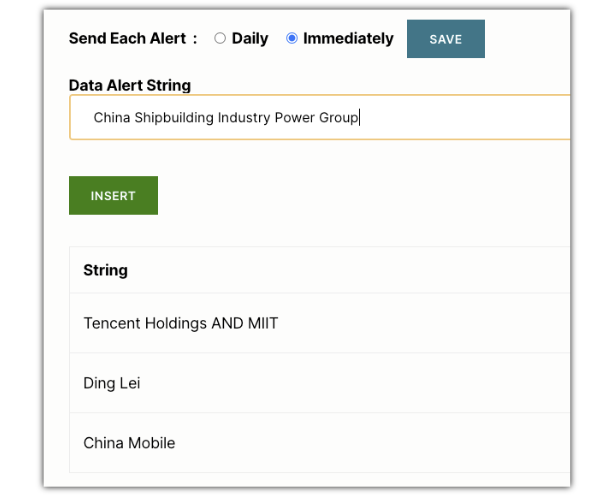 Create Your Data Alerts
To create your Data Alerts, first visit your Dashboard > Data Alerts. You can then enter keywords using the Boolean operator "AND" to connect multiple keywords. Your Data Alerts are all either sent immediately via email when the data is available, or once a day inside one email — so select either "Daily" or "Immediately".
Subscribers can add up to 100 keyword phrases, while Free Accounts are limited to only 2 keyword phrases. If you downgrade from a Digital Subscription to a Free Account, your alerts will also be deleted.
Delete or Stop Data Alert Emails
When you wish to amend a Data Alert, it's best to delete it and create a new one. If you wish to stop receiving the immediate or daily emails, you should click the ""Delete"" button next to the particular Data Alert to remove that from your account.
Since we beta launched in December 2019, we have tracked more than 1500 Shanghai Stock Exchange companies and their related units. We also track thousands of other large Chinese State-owned enterprises and large Chinese companies not listed in mainland China who greatly impact China's economy. In Q4 2020, we will also expand to cover Shenzhen Stock Exchange companies (we are currently doing this, but only for beta users!) and we will then make this market event data available to you!
Caishen.Co is entirely automated and powered by artificial intelligence! Our algorithms scour the Internet for publicly-available Chinese data, and then our machine-translation tools quickly parse and prepare the information for you. We also use cutting-edge tools to create thousands of taxonomies for each market event we prepare for you.
We monitor the latest data on Chinese listed stocks and then immediately provide that data to our customers using our own taxonomies along with the Global Industry Classification Standard, Industry Classification Benchmark, Thomson Reuters Business Classification, and the IPTC NewsCodes. These various taxonomies give you the power to drill down into necessary data easily and quickly. The IPTC NewsCodes and Copyright © 2020 IPTC, International Press Telecommunications Council.
And on most market event data, we provide you a visual map of clickable taxonomies that are derived from that particular data piece. Here's an example: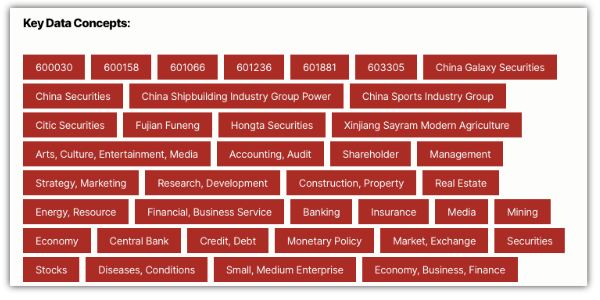 The Chinese stock market is filled with thousands of daily market-moving events. At Caishen.Co, we compile news and publicly-available data and then deliver those to you as fast as we can. So when you read our data points at Caishen.Co, each market event is a news article, commentary, or publication that we deliver to you. We always provide you links back to the original Chinese data too so you can verify the quality of our machine-language translations.