Data You Need, Simplicity You Require
View Silver Lock data on the site and access up to 3 Market Events and data briefs every 30 days
Access hundreds of new data points every day for top chinese listed companies
Unlock both silver and gold data and access unlimited amounts of archive data for the life of the subscription
create up to 100 Watchlist market alerts to stay Updated oN breaking news and data
HK$6888
Per Month / BILLED ANNUALLY
harness the power of millions of data points for your entire organization with a corporate subscription
API ACCESS To both our English and Chinese streaming daily data In Multiple Taxonomies

Experiencing any problems or have some pre-sale questions?
Contact us here
.
Frequently Asked Questions
Everybody who registers with Caishen.Co's platform gets an account. A Basic Account is free, and it allows you to login with your username and password to view important data, articles, and stories on our platform. With your free Basic Account, you can only view 3 news stories and data points each month.
A Paid Subscription, on the other hand, is a paid upgrade for an account. A Paid Subscription gives you access to members-only data, important articles, exclusive reports, and critical business news updates. You get unlimited access to our platform's news and data.
Because you want exclusive Chinese stock market news and data in English before anyone else, you need to subscribe to Caishen.Co. While our free Basic Account limits you to a handful of news each month, our paid subscriptions open the door to unlimited data points, daily news, and all of our archives.
We offer free Basic Accounts that last a lifetime, and those accounts give you access to a limited amount of our coverage. Therefore, that Basic Account is your gateway to see just how much valuable data we provide each business day. When you need unlimited data and news, you can then easily upgrade to a paid subscription.
At Caishen.Co, Corporate Subscriptions are an excellent way to provide your colleagues a wider access to Caishen.Co's platform and data. With a Corporate Subscription, each of your colleagues gains their own access. Contact us for more info.
Companies can pay for Corporate Subscriptions in two main ways: online with credit card or manually via a bank transfer.
Concurrent logins and simultaneous user sessions are not permitted in our system. However, we do offer special unlimited concurrent session accounts on some Corporate Subscriptions. Please contact us for more details."
We charge your selected payment option with the package price at the beginning of the subscription cycle. We send an email prompt to your account prior to the date of subscription renewal for cancellation. If cancellation is not opted for, we assume you want to continue with your subscription.
For your safety and security, your account can only be logged in on one device or browser at a time when you use Caishen.Co. If you do wish to have multiple subscriptions to share with colleagues and friends, please contact us for a Corporate Subscription. And for special licensing deals, we can provide you unlimited concurrent login sessions, so please contact us for our flexible options!
Please also check our Terms & Conditions for more information about concurrent sessions.
After you login, click on the "My Account" link and then click on "Update Details". You can then alter your password. However, because your email is used as your username, you can not alter your email address. If you need an assistance, please contact us.
All subscriptions are non-refundable and non-transferable. A subscription account will allow one named person at any one time of the subscription period.
Caishen.Co Data Alerts push you the latest data for your needs. Do you want to know the moment a certain company's news is posted to our site? Are you interested in any news containing keywords such as ""manufacturing Tianjin""? What about receiving only news if a deal reaches a certain taxonomy?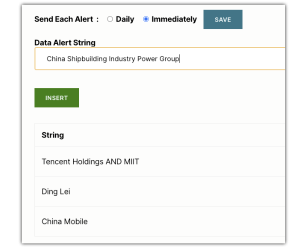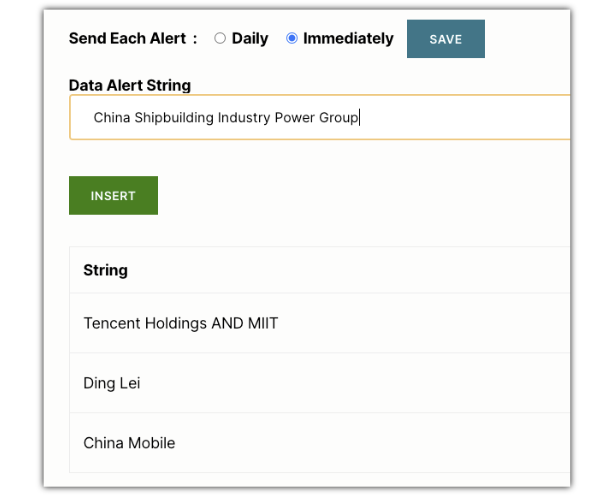 Create Your Data Alerts
To create your Data Alerts, first visit your Dashboard > Data Alerts. You can then enter keywords using the Boolean operator "AND" to connect multiple keywords. Your Data Alerts are all either sent immediately via email when the data is available, or once a day inside one email — so select either "Daily" or "Immediately".
Subscribers can add up to 100 keyword phrases, while Free Accounts are limited to only 2 keyword phrases. If you downgrade from a Digital Subscription to a Free Account, your alerts will also be deleted.
Delete or Stop Data Alert Emails
When you wish to amend a Data Alert, it's best to delete it and create a new one. If you wish to stop receiving the immediate or daily emails, you should click the ""Delete"" button next to the particular Data Alert to remove that from your account.
Since we beta launched in December 2019, we have tracked more than 1500 Shanghai Stock Exchange companies and their related units. We also track thousands of other large Chinese State-owned enterprises and large Chinese companies not listed in mainland China who greatly impact China's economy. In Q4 2020, we will also expand to cover Shenzhen Stock Exchange companies (we are currently doing this, but only for beta users!) and we will then make this market event data available to you!
Caishen.Co is entirely automated and powered by artificial intelligence! Our algorithms scour the Internet for publicly-available Chinese data, and then our machine-translation tools quickly parse and prepare the information for you. We also use cutting-edge tools to create thousands of taxonomies for each market event we prepare for you.
We monitor the latest data on Chinese listed stocks and then immediately provide that data to our customers using our own taxonomies along with the Global Industry Classification Standard, Industry Classification Benchmark, Thomson Reuters Business Classification, and the IPTC NewsCodes. These various taxonomies give you the power to drill down into necessary data easily and quickly. The IPTC NewsCodes and Copyright © 2020 IPTC, International Press Telecommunications Council.
And on most market event data, we provide you a visual map of clickable taxonomies that are derived from that particular data piece. Here's an example: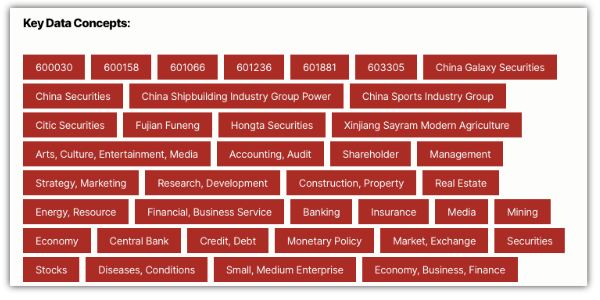 The Chinese stock market is filled with thousands of daily market-moving events. At Caishen.Co, we compile news and publicly-available data and then deliver those to you as fast as we can. So when you read our data points at Caishen.Co, each market event is a news article, commentary, or publication that we deliver to you. We always provide you links back to the original Chinese data too so you can verify the quality of our machine-language translations.